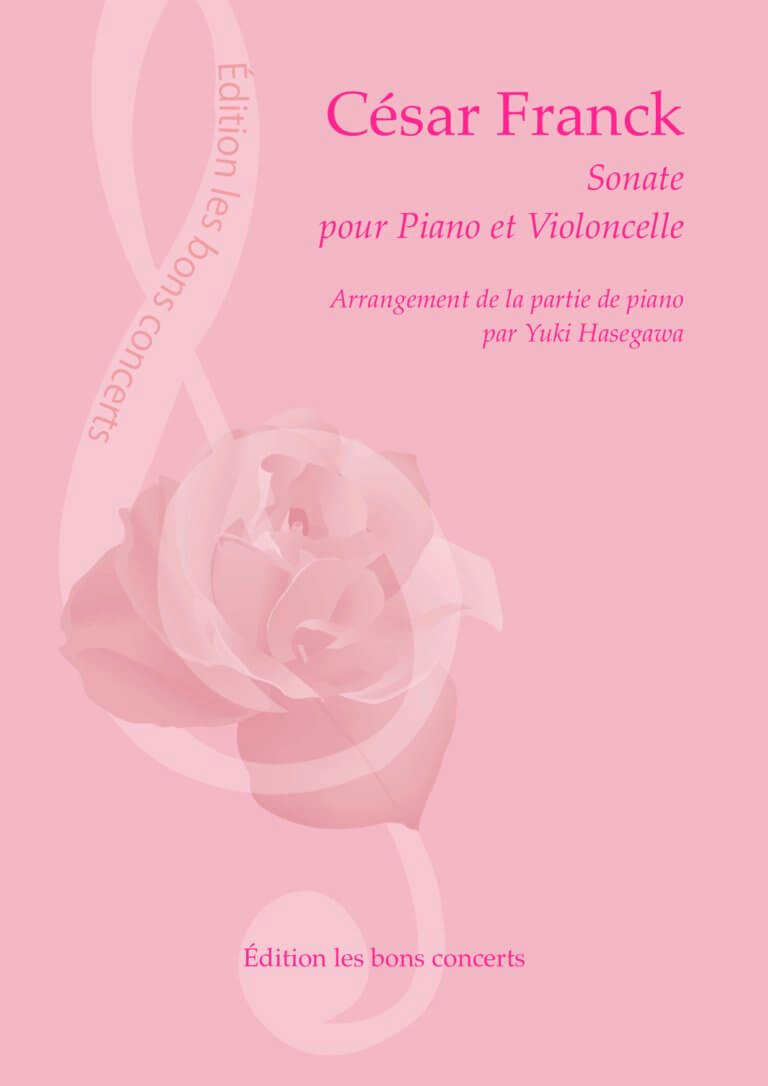 César Franck: Sonata that sounds good on the cello / Arrangement of the piano part by Yuki Hasegawa
Special piano part for cellist! Arrangement performed at "Cello recital by the 1st soloist of Paris Opéra, Aurélien Sabouret" acclaimed by the Japanese prestigious music magazine "Ongaku-no-tomo" has been published.
Compatible with your own cello part! (Parts can be also downloaded)
You can buy by  
  near from your place. Please click a national flag.↓(Random order)
If you are in Japan and have time, I recommend Bookfront inc.'s Saddle stitch binding. It takes 3-6days but beautiful. Only domestic shipping. ↓
Score
Cello part (free DL click here)
Score
Cello can sing using up to pianissimo. Piano part avoids same range, reduces scenes without soprano. New score realizes natural sound spread.
Avoid the dialogue cello-piano between the ranges too far away
Also kind material for pianist:
Piano score's cello part is written only with G&F clef.
Rehearsal Numbers and bar numbers are compatible with the 1st edition by Delsart, Bärenreiter edition and Henle edition.
Page layout is same as 1st edition.
After the concert, the arrangement was so natural that no one mentioned it!
*Price for individual use only. Lending/donation/resale to libraries/organizations/groups are not allowed. Please contact us for group license.
Cello part (free DL click here)
Arranger Yuki Hasegawa:
Arranger, conductor and pianist.
In 2019, she was re-invited to the regular concert of the Japan Croatia Music Society and conducted the premieres.
As a chamber musician, she enthusiastically works on and recorded experimental harmony pieces from the early 20th century. She appears as official pianist and judge of string and wind instruments' events.
Laureate of competitions in France, Italy, Austria and Hungary. Graduated Kunitachi College of Music (piano), Conservatoire Supérieur de Paris-CNR (composition theory, orchestration and chamber music) and Milano Civica Scuola di Musica (orchestral conducting). She studied écriture musicale also in CNSM-Lyon.
Studied orchestration under Prof. Alain Louvier, écriture musicale with Prof. Bernard de Crepy, piano under Profs. Thierry Huillet and Arnulf von Arnim (Germany), chamber music with Profs. Jean-Pierre Sabouret (Principal violin of the Opéra National de Paris), Eric LeSage, Paul Meyer, etc.
She is currently traveling between EU and Japon with the "passport talent" residence permit (all types of professional activity are allowed) from French government.
Collaborative artist of Pro Arte Musicae Co., Ltd. in Japan.
Composer member of IMRO.